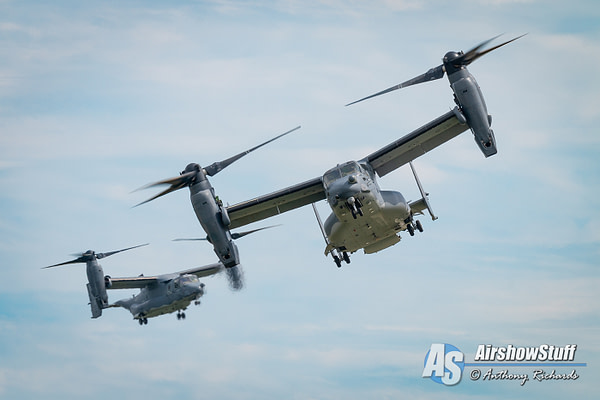 EAA AirVenture is without a doubt the largest event on our airshow calendar each year. The event can best be described as "aviation overload" with over 10,000 aircraft and hundreds of thousands of avgeeks descending into Oshkosh, WI during the week of the show.
Looking for EAA AirVenture Oshkosh airshow details, or information for first time attendees? Check out our discussion forums!
Last week, we published our annual highlights video for AirVenture – a 45-minute, narrated look at some of the special performances and highlights at the show. The video is produced in conjunction with our friends at This if Flight; if you like this narrated style of video be sure to check out their Airshow Dispatches series covering many more shows around the world!
Check out the "Spectacular Oshkosh Highlights!" video below, and remember that if you want to see more you can always find un-narrated, full videos of these amazing aerial performances on our Youtube channel!
In a joint venture with our friends at This Is Flight, we bring you some of the best highlights of EAA AirVenture 2021 in Oshkosh, WI!

Look for unique homebuilt aircraft like Bally's Bomber (a scale B-17!), vintage airliners like the Samaritan's Purse DC-8, plus special arrivals and departures like a German Air Force A400 Atlas and a Boeing 747-8F. Oshkosh's legendary mass formations are featured along with different warbird themes throughout the week like light warbirds and vintage jet warbirds. We run down the special "75 years plus 1" commemoration of the end of World War II: a two hour airshow segment that used more than 40 warbirds to highlight major events during the war like the attack on Pearl Harbor, the D-Day landings, and the air war in Europe.

"Two Buck Chuck" with AirVenture first-timers Erik Edgren and RJ Gritter showcases affordable aerobatic aircraft while the 2022 edition of Adventures of Aviore brings together airshow all-stars in a creative performance. Aviation of all types is celebrated with flybys by agricultural crop sprayers, a Goodyear Blimp demonstration, and innovative electric VTOL aircraft like the bizarre-looking Volocopter.

We slow things down with a look at the twilight STOL demonstration on the ultralight runway before speeding things up with the US Air Force Special Operations Command (AFSOC) demonstrations featuring an airfield takeover by MC-130s, CV-22 Ospreys, AC-47/AC-130 gunship heritage flight, and an eye-popping night flare dump. The military action continues with rarely seen AFSOC types like the U-28 Draco and C-146 Wolfhound, an A-10 Warthog field attack demo, US Air Force Heritage Flight, U-2 Dragon Lady flyby, and the F-16 Fighting Falcon and F-18 Super Hornet demonstration teams.
Want even more Oshkosh action? Settle in for 7.5 hours of busy Oshkosh arrivals and departures with our EAA AirVenture 2021 Mega-Compilation!