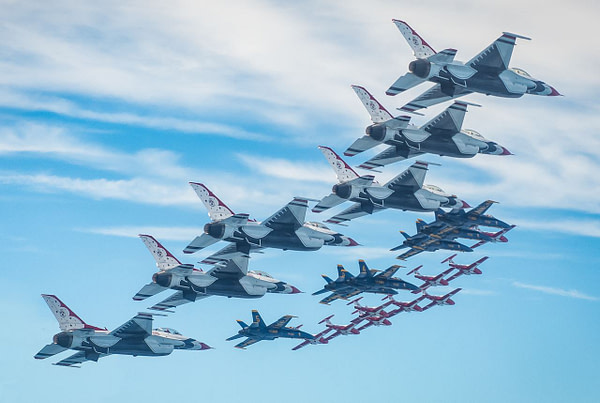 In an historic moment, the US Navy Blue Angels, US Air Force Thunderbirds, and Canadian Forces Snowbirds joined together in a massive formation yesterday near Lake Erie. The three teams have crossed paths and flown jointly before, but this is believed to be the first and only time that all 21(!) display aircraft have shared the skies together.
The flight was only possible because all three teams are performing relatively close to each other this Labor Day weekend. The Snowbirds and Thunderbirds are in Toronto, ON for the Canadian International Air Show while the Blue Angels are in Cleveland, OH for the Cleveland National Air Show.
Photographer Glenn Watson captured the joint flight from the rear of the formation and all three teams shared these same photos on their social media pages. Hopefully more photos come out from another angle!