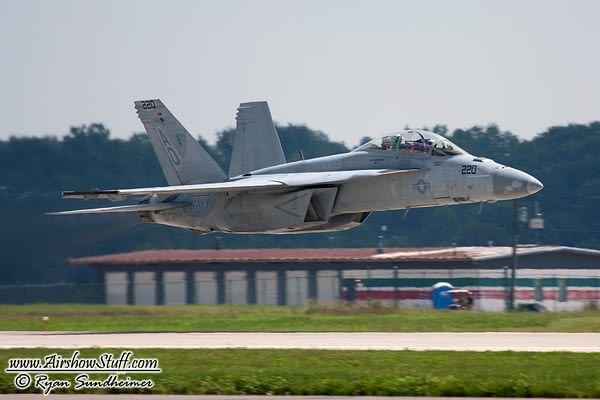 Update 6/27/19 – The Navy Times is reporting that the Facebook post announcing the cancellations was made prematurely, and that the Navy is still debating whether to choose that course of action. The original Facebook post has been taken down until a final decision is made. There may be hope for 2019 demos after all!
Original Post – In a surprise announcement, the US Navy's Super Hornet Demonstration Team from VFA-106 "Gladiators" has cancelled all remaining 2019 performances with immediate effect.
The team was already operating on a limited schedule this year following an even more limited schedule last year. They have had major struggles with jet and crew availability for their primary mission, training Super Hornet pilots. Indeed, operational need is the reason given for the cancellation.
The US Navy Legacy Flight program is still on as scheduled, and VFA-122 "Flying Eagles" will continue to fly Super Hornets in Legacy Flights while other units will continue flying E/A-18G Growlers, T-45 Goshawks, and T-6 Texan IIs. Spreading the load across various units is one of the reasons we were excited about this year's Legacy Flight program expansion and it is certainly the main reason that the program is continuing now. In previous years Legacy Flights were limited to demonstration teams so they would have been cancelled also.
Here's the full announcement, posted to the US Navy Tacdemo Facebook page:
Remainder of 2019 VFA-106 TACDEMO schedule cancelled.

As the East Coast Super Hornet Fleet Replacement Squadron, the mission of VFA-106 is to provide the fleet with superbly trained replacement aircrew to support fleet readiness. This mission will always take priority over displaying the remarkable Super Hornet across the country. While unfortunate, the remainder of the TACDEMO schedule for 2019 has been cancelled. Our dedicated, volunteer, air crew and maintainers must focus their efforts on training the next generation of Super Hornet aviators and flight officers.

We appreciate all the support that you have shown us this year. We remain optimistic that we will return to the air show circuit in 2020.

VFA-122's Tailhook Legacy Team will continue to fly the rest of their season schedule.
This is certainly disappointing news for fans craving a return to the days when the Super Hornet was a regular performer on the airshow circuit, but the mission must come first!
Head to our forums for the 2019 US Navy Legacy Flight schedule, and check out our airshow calendar to find airshow and aviation events near you!