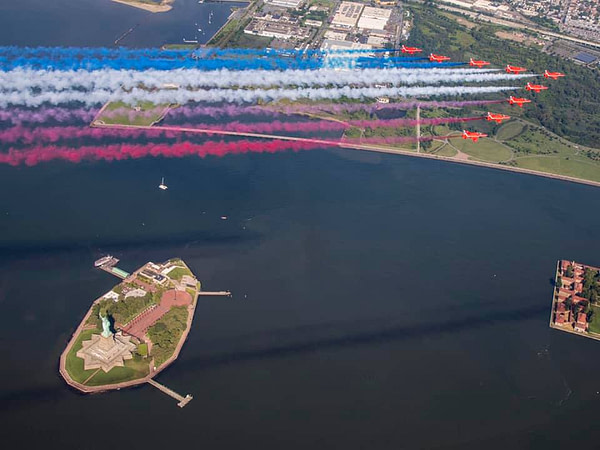 Earlier this morning, the Royal Air Force Red Arrows, USAF Thunderbirds, USAF F-35 Lightning II Demo Team, and USAF F-22 Raptor Demo Team came together for an awesome parade of military aircraft over New York City. The teams flew down the Hudson River, over the Statue of Liberty, and back north to Stewart ANGB in New Windsor. For a portion of the flight, a diamond of F-22s and F-35s tucked right in behind the Red Arrows, while the Thunderbirds lead the way in their signature delta formation.
The US Navy Blue Angels were originally scheduled to take part, but they dropped out late last night due to operational commitments. Their arrival into New York yesterday appears to have been delayed by weather, which likely put them too far off schedule to participate in a complicated mission like this.
The Red Arrows will now continue their North American tour by performing at the New York Airshow this weekend. Several more photo op flyovers are planned for the team, including over Washington, DC, Niagara Falls, and St. Louis. We'll be adding details about those appearances to our forums as they become available.
In the mean time, here are some of our favorite photos and videos from today's special flight:
Photo Courtesy USAF F-35 Lightning II Demo Team

Photo Courtesy USAF F-35 Lightning II Demo Team

Photo Courtesy RAF Red Arrows

Photo Courtesy RAF Red Arrows